VESI Environmental Framework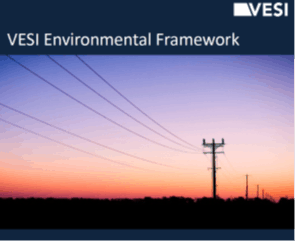 Module Purpose
This module provides the learner with the underpinning knowledge and skills to understand key principles of environmental management.
This module can be used for both refresher training and initial training.
Target Group
All personnel who are required to work on or near the electricity network assets
Summary of Content
Environmental Legislation
Air Emissions
Waste Management
Flora & Fauna protection
Cultural Heritage
Environmental Management Systems (EMS)
Containment of contaminated water
Chemical Management
Weed and disease management
Noise and Vibration
Course Duration
Initial – 4 hours
Refresher – 2 hours
Frequency – 3 yearly
Group Size
Certification
Upon successful completion of an initial course participants will be eligible to receive a Certificate of Completion.
Want to know more?
For further information about this course please refer to our contact details on this page.
Benefits from this course
VESI Environmental Framework (PDF)