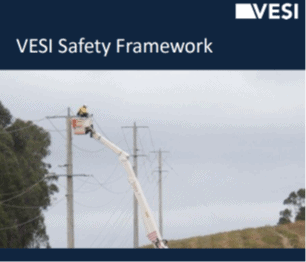 Module Purpose
This module provides the learner with the knowledge to understand the purpose and intention of the Occupational Health and Safety (OH&S) Act and associated legislations and regulations.
This module can be used for both refresher training and initial training.
Target Group
All VESI personnel who are required to work on or near the electricity network assets.
Summary of Content
OH&S Act
General duty of care
Legislations and Regulations update
Risk Assessment process
Prevention of Falls Regulations and Codes of Practice
Electrical Safety Act (Section 43/41)
Rights and responsibilities of employers and employees
Australian Standards update
Incident reporting
Asbestos Management
Course Duration
Initial – 4 hours
Refresher – 2 hours
Frequency – 3 yearly
Group Size
Certification
Upon successful completion of an initial course participants will be eligible to receive a Certificate of Completion.
Want to know more?
For further information about this course please refer to our contact details on this page.
Benefits from this course